August 2001
Komodo and its Dragons (1/3)
Several years ago, I read a book called "Last Chance to See", written by Douglas Adams (famous for writing "The Hitchhiker's Guide to the Galaxy"). Among several other animals on the endangered species list, he also wrote about the Komodo Dragons the world's largest Lizards. Ever since that day I've wanted to visit Komodo.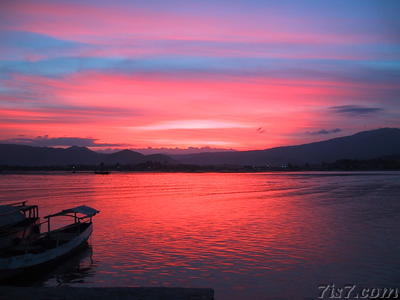 Sunset in Sape.
Douglas Adams has unfortunately passed away several months before I visited Komodo. I am thankful to him for writing this book, as Komodo was one of the most interesting places I have ever visited. By inspiring people like me to visit Komodo, the locals are finding out that the dragons are worth more alive than dead. This way he might have done a lot to help save the Komodo Dragons.
Like most tourists we entered Indonesia in Bali. Getting from Bali to Komodo was anything but trivial. There was the option to take an organized tour by boat, but we would only have had 3 hours on Komodo while we wanted to spend several days.
After taking several busses and ferries, which took us 3 days in part because one of our busses broke down, we arrived in Sape on the eastern end of Sumbawa on Monday the 6th of August 2001.
From Sape you were supposed to be able to get a ferry to Komodo. In Sape however we were told it only went on Saturday (and remember it was Monday). The other days the ferry went straight to Labuanbajo (on Flores), from Labuanbajo, they said the ferry stopped at Komodo on Wednesday and Saturday. So we decided to take the ferry to Labuanbajo on Tuesday and Subsequently take the ferry "back" to Komodo on Wednesday. So we spent the night in Sape and at least got to see this beautiful sunset. There's one Guesthouse close to the port and a fine restaurant practically next door, so we spent the night there.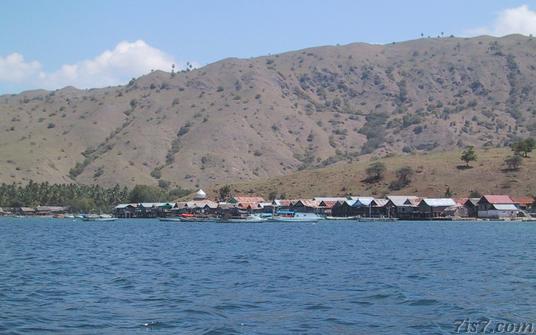 Kampung Komodo village.
The ferry however cannot dock in Komodo, so a small fishing vessel meets the ferry to take travelers to Komodo. Most of those travelers were villagers from Kampung Komodo. There were surprisingly few tourists.
Kampung Komodo is the only village on the island. It has about 1000 inhabitants. Besides fishing they also craft souvenirs for visiting tourists, and provide them with boat trips to Mangrove Island (to see the flying foxes) and Red Beach (for snorkeling).
The islands Komodo, Rinca and Padar are all part of the Komodo National Park. The park falls under the responsibility of the PHPA, which has two camps, one on Komodo at Loh Liang and one on Rinca at Loh Buaya.
On Komodo the PHPA camp at Loh Liang is where visitors go to see the Dragons and where it's possible for visitors to get accommodation and stay overnight. The PHPA also provides guides for tourists and collects the park's entrance fee (20.000 rp. the equivalent of 2.5 Euros). The best rooms cost a whopping 45.000 rp (6 Euros)!
Not the kind of place that will break your budget... But don't expect any luxuries either, electricity works from roughly 18:00 until 22:00, after that it's really dark. There's no warm water either, not that you really need it, and obviously no air-conditioning. The ventilator in the room stops shortly after 22:00 when the electricity is turned off. Of course you don't have the room to yourself, you're sharing it with 30cm long geckos (everything on Komodo is bigger). But this is all part of the charm of Komodo. Not to mention the fact that wild pigs, deer and dragons just walk past your window.
It turned out that most people visiting Komodo, did so on day trips, as you can see on this view of Loh Liang bay (above) there are usually several boats in the bay. Since the chance to see a Komodo dragon during the three hours they spend on the island is actually quite low, they don't know what they are missing.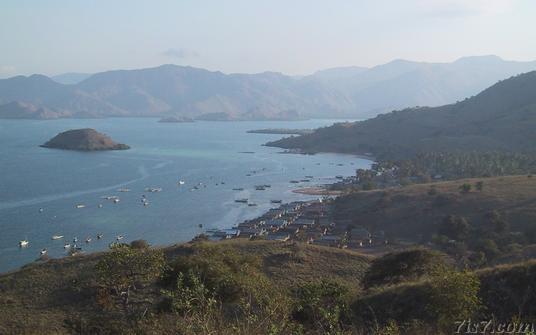 Kampung Komodo village, seen from above.
Often they only get to see the dragons that hang around in the camp close to the kitchen. We saw many disappointed faces among the day-trippers and were glad we didn't go on one of those organized boat tours.
From the PHPA camp you are supposed to be able to walk to the village in approximately 30 minutes, at least according to the Lonely Planet guide. Unfortunately the path soon disappears, and you're left guessing which way you should go. It took us more than an hour.
In the village dozens of children greeted us and followed us as we walked around. Later we chartered a boat from one of the villagers to take us back to the camp.
There's one destroyed building in the village, the locals told me, it used to be the police station "from the Labuanbajo police" as they said. The villagers didn't like them and routed them. As a result there's not a single policeman on the entire Island. Not a big loss since Indonesian cops unfortunately tend to be more occupied with filling their own pockets than with law enforcement.
Of course the PHPA staff take care of the national park and the protection of the dragons. They seem to be on good terms with the villagers.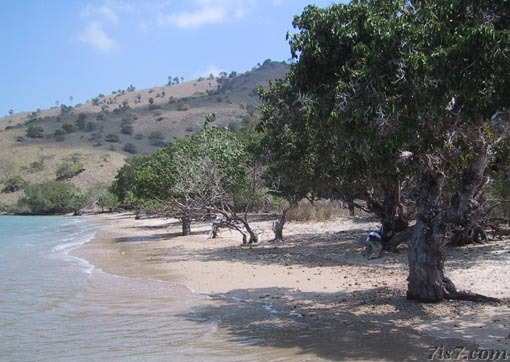 Komodo Beach.
From the beach the view of the bay, and surrounding mountains is awesome. In the distance, one can see Padar, and Rinca behind that. I stitched together several pictures I took to make a panorama from Komodo beach.
Most people go to 5 star resorts to get to beaches that look like this on brochures, however once they get there so are countless other (noisy) guests. A beach all to yourself that would be paradise.
Komodo beach, is that paradise!
Let me qualify that: You have the beach, the warm sea and trees for shade all to yourself. There are some more differences with your average 5 star resort, there are no luxuries on Komodo so don't expect somebody to be serving you drinks. But that's not all.
The real problem, on Komodo is that you've got to keep your eyes open for dragons ALL THE TIME! Several years ago an elderly man wandered off alone, never to be seen again. It is said that only his camera and sunglasses were found back on the beach! In other words while lying on the beach, you could become lunch!
We were lucky and survived.
Let's take a look at those fearsome monitor lizards: the Komodo Dragons.