Haapsalu White Lady
Haapsalu valge daam
Legend has it that in Haapsalu during the middle ages a young canon and a girl fell in love. They loved each other so much that they could not stay apart. As women were not allowed into the monastery the young woman entered disguised as a boy to sing in the choir. However they were discovered and the bishop had the young man thrown into the dungeon to starve to death, while the young woman was immured alive into the wall of the round baptismal chapel on the southern side of the church that was under construction at that time. Her crying was heard for several days before she finally starved to death.
Since that time, during the full moon in August, she appears in the window of the chapel.
In 2009 I finally managed to go to Haapsalu during an appearance of the White Lady. It was more impressive than photos can show, it really looks like there actually is a ghost in the window. The photos cannot recreate the glow of the White Lady as it appears in the dark, but they do show some details that are not obvious to the naked eye. When zooming in to the figure of the White Lady on the photos I had made I was surprised to see what appears to be a face of a woman, making it look so real, maybe a bit too real...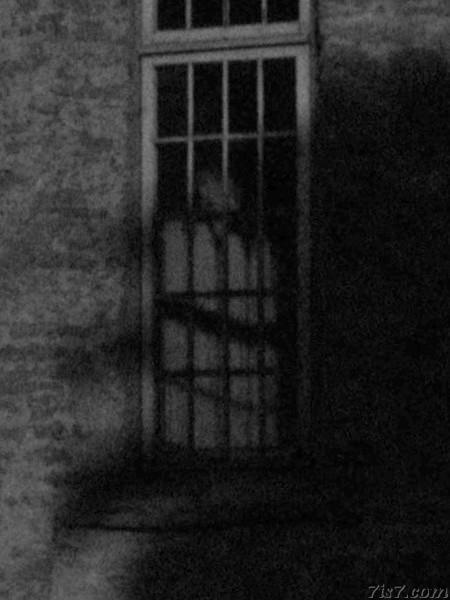 White Lady close-up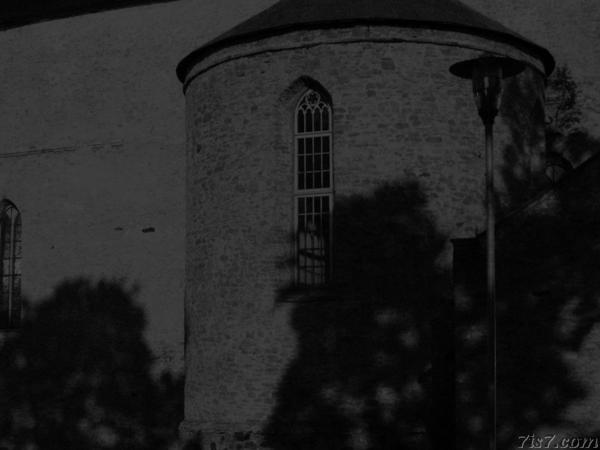 Faint glow of the White Lady in the window
Before the appearance of the White Lady, there was an outdoor theater piece being played, about the story of the White Lady. Below is a photo of the scene where she gets immured.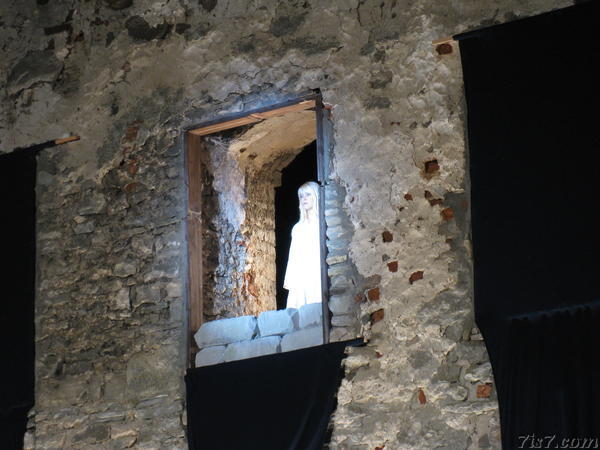 White Lady theater
Let's get back to the appearance of the White Lady in the window of the chapel. It's actually moonlight that's being projected on the back wall of the chapel through the window. A photo I took in 2008, see below, shows the same phenomenon happening with sunlight (although the light comes in through a different window). You can see that the circular window pane at the top of the window is transparent while the window panes or the side are red and blue (you can also see the red and blue colors projected on the wall). This causes the head to appear as it does instead of taking the full shape of the window. The four tall window panes form the body of the ghost.
It's interesting to see how easily we can be fooled by appearances and how we are genetically programmed to see faces, even when there isn't any there, but just an illusion that's probably caused by irregularities in the window pane.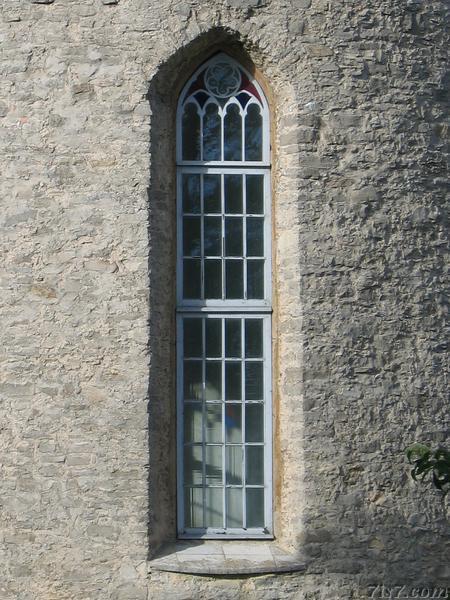 White Lady window in daylight
Location: 58°56'50"N 23°32'19"E on: Google Maps, OpenStreetMap, Maa Amet.