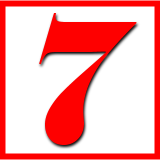 Donations and small Payments
If you wish to financially support one of the projects by Otto de Voogd or 7is7.com it is possible to make a donation or small payment using one of the methods detailed below.
The names used for my accounts on these payment services vary, they can be: 7is7.com, de-voogd.com or ottodv.
Preferred method for online payments in US Dollars.

Donate towards our hosting fees at Dreamhost.

Donations in US dollars only (Dreamhost uses Paypal to process donations).

SEPA Transfer - Request SEPA details (IBAN & BIC codes) via e-mail.

Direct deposits to our bank account should only be made in Euros from within the European Economic Area via a SEPA transfer.

Tip via ChangeTip.

This is an easy way to tip small amounts.

Donate via flattr.

This is an easy way to give a small donation anonymously. You need an account on flattr.

Send Bitcoins (BTC) to:

1Ez6pzMFXTRiT6hjpUiqHmbxR8mgwLsvx3

If you have Bitcoins please try this!

Send Litecoins (LTC) to:

LPYf9BeeNeQHL9sHpzVW7BaFC8ntWt6QTQ

If you have Litecoins please try this!
Contact us by E-mail for feedback, requests or payment information.