Freedom Square
Vabaduse Väljak
Vabaduse Väljak (Freedom Square) is one of the main squares in Tallinn. It was completely reconstructed in 2009, including moving the parking space underground, making the square into a large open space for pedestrians.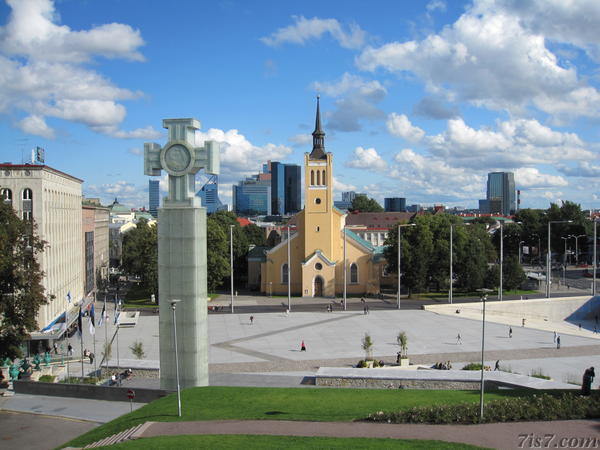 Vabaduse Väljak seen from Harju hill
The square is used for big events, like the visit of the Dalai Lama in August 2011, see photo below.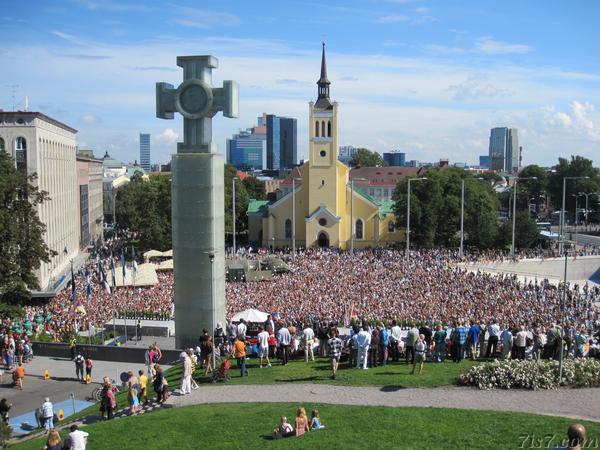 Vabaduse Väljak during the visit of the Dalai Lama
The Freedom monument, which you can see in the foreground of the photos above was erected simultaneously with the renovations of Vabadus Väljak in 2009. The monument is shaped in the form of the Cross of Liberty that was bestowed upon heroes of the Estonian War of Independence (1918-1920). However the appearance of the monument is not to everyone's taste.
At night the monument is supposed to be lit, but it has been hampered by technical problems and I never managed to take a photo of it with all the lights working properly. Sometimes they are simply turned off for long periods, presumable when too many are broken.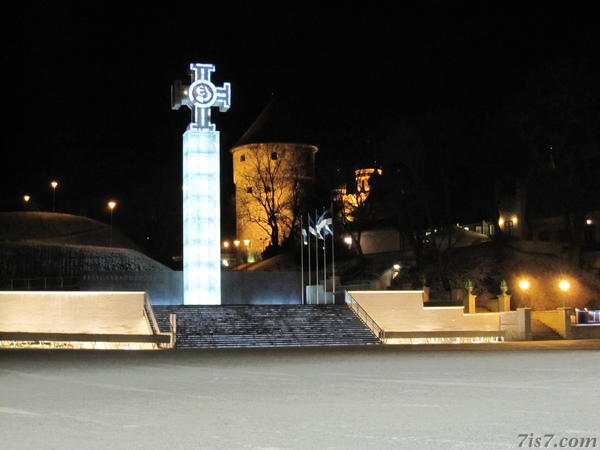 Vabaduse Väljak at night
The Estonian War of Independence was fought from 1918 to 1920 against Russia. Estonia won the war and in February 1920 Russia and Estonia signed the Tartu Peace Treaty in which Russia renounced in perpetuity all rights to the territory of Estonia. A promise that was broken in 1939 when Russia and Germany divided central Europe between each other in the Soviet-Nazi friendship pact (commonly known as the Molotov-Ribbentrop pact).
Location: 59°26'2"N 24°44'39"E on: Google Maps, OpenStreetMap, Maa Amet.