Danse Macabre
Surmatants
The Danse Macabre or Dance of Death (German: Totentanz, Estonian: Surmatants) is possibly the most famous painting in Estonia. The painting is usually attributed to Brent Notke, but this is disputed by some1.
The painting is most likely from the 15th century, it has numerous similarities with the Danse Macabre painting in Lübeck from 1463 that was destroyed in a bombing raid in 1942. Like the work in Tallinn, the Lübeck painting is also usually attributed to Brent Notke.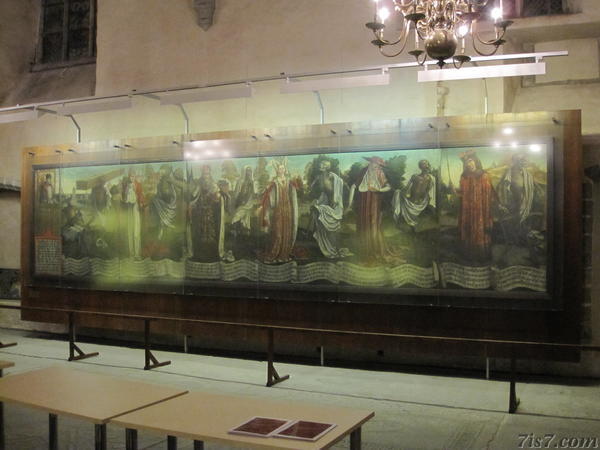 Danse Macabre on display
Unfortunately the painting is presently on display behind some sort of hazy glass with terrible lighting that reflects on the glass and makes it hard to see the painting well. As a result, below is one of the few photos on this site that was not made by me, however thanks to a limitation of copyrights on faithful reproductions of public domain works2 I am able to present a picture of the painting.

Danse Macabre
Both the Tallinn and Lübeck works were originally 30 meters long, while the Lübeck work has been entirely lost, except for a photographic record, 7.5 meters remain in Tallinn. The fragment in Tallinn was restored in 1962-1964. While the backgrounds differed, the figures in the paintings are the same. More information can be found on Dodedans.com : The Dance of Death in Tallinn.
1: Dodedans.com : Bernt Notke and The Dances of Death
2: In many/most jurisdictions there are no copyright restrictions on a photograph that is a faithful reproduction of a work of art in the public domain. The Danse Macabre is clearly in the public domain. The picture on this page is the result of some stitching work of mine on what appears to be scans of a printed copy of the painting found on dodedans.com (see link above). I've uploaded a higher resolution version to Wikimedia Commons.
Location: 59°26'9"N 24°44'34"E on: Google Maps, OpenStreetMap, Maa Amet.