St. Nicholas' Church
Niguliste Kirik
Tallinn's St. Nicholas' church (Estonian: Niguliste kirik) was nearly entirely destroyed during the Soviet air raids in the night of March 9/10, 1944. The air raids also destroyed many surrounding houses and killed 463 civilians. Some of the houses that were destroyed near Niguliste church have never been rebuilt, the area has been turned into a small park and hosts an ice-rink in winter.
The church, consecrated to St. Nicholas, the patron saint of merchants and seafarers, was founded in the mid 13th century. In the years 1405 to 1420 it was rebuilt giving the chancel and the nave its current appearance. The pews from the 1550s and the pulpit from 1624 where destroyed during the march 1944 bombings.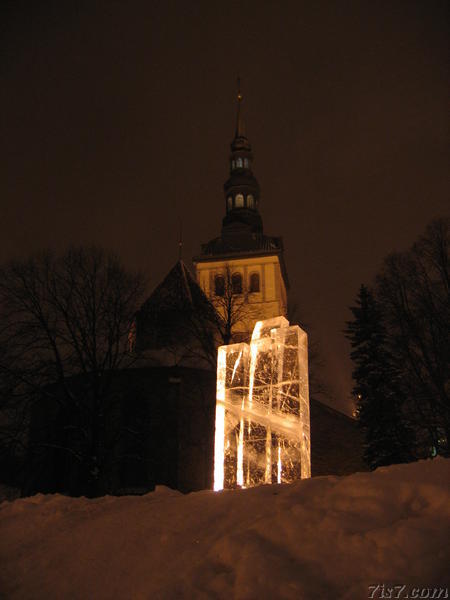 Niguliste church behind an ice sculpture at night
Niguliste church now functions as a museum of ecclesiastical art, whose most famous item is the Danse Macabre, a painting usually attributed to Brent Notke. Another masterpiece is the altar retable by Hermen Rode. These items certainly make it worth a visit.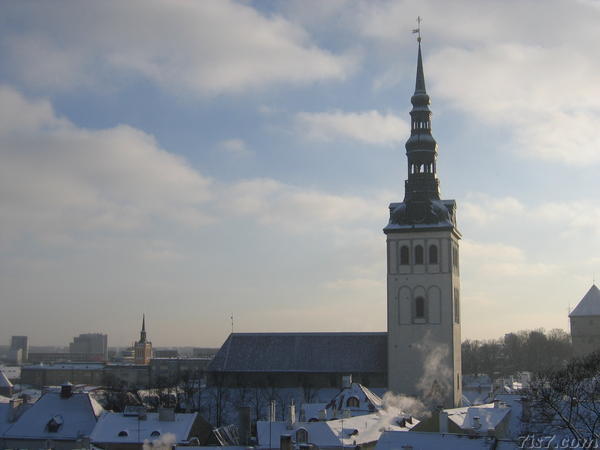 Niguliste church seen from Toompea hill
Location: 59°26'9"N 24°44'34"E on: Google Maps, OpenStreetMap, Maa Amet.